Santa's Magic 2013 Christmas Season
January 23, 2014
Santa's Magic just completed its 32nd year of gift giving and support of patients and retired veterans including serving members of our armed forces. Following Christmas each year we reflect on how Santa's Magic, Inc. fulfilled its mission:
"To brighten the lives of hospital patients and their loved ones, bring the joy of the holiday season to our aging veterans and give a moment of happiness to the families of our armed forces serving our nation overseas. As volunteers we strive to achieve these goals by paying personal visits on Christmas Day and providing special gifts, fellowship and cheer at this very special time of year."
December 25th, 2013 10 Santa Teams visited more than 1,300 people. Venues included the Brigham and Women's Hospital, Quigley Memorial Hospital, Chelsea Solder's Home, the West Roxbury & Bedford, MA. VA Hospitals, and selected families of our armed forces, who where away defending our country. In addition to our Holiday Greetings we provided gifts, and for our home visits we delivered their pre-chosen Christmas Dinner.
Members of the better than 100 Christmas Day volunteers frequently share real life stories of Christmas Day events. The tears of happiness for a warm visit, or a gift of a knitted afghan, reach beyond our hopes and aspirations. The service veteran who is treated to a breakfast omelet with a visit from Santa reminds him that he is appreciated and not forgotten. The toy left behind for the hospital patient to give to his/her later in the day visiting grandchild is so valuable. To deliver a pre-chosen Christmas Dinner to a family while one of the parents is serving their country in a war zone.
Yes the value of the Christmas Day visits are often difficult to quantify. It doesn't take many joyful tears of thanks to make the entire Christmas Pilgrimage worthwhile.
---
2013 Santa's
Michael Brazel – VP of Sales & Marketing, L.Knife & Son, Danvers, MA
Barry Burrows – MD, Boxford, MA
Scott Cheyne – VP Hill Holiday, Retired, Boxford, MA
Donald Fitzgerald – CFO Energi Insurance Services, Inc., Peabody, MA
David Gravel – CEO GraVoc Associates, Peabody, MA
Michael Heffernan – Financial Analyst Analog Devices, Inc., Norwood, MA
Brian McCarthy – CEO Energi Insurance Services, Inc., Peabody, MA
James Nentwig – VP John Hancock Ins., Retired, Boxford, MA
Robert Nentwig – Senior VP Boston Private Bank & Trust, Boston, MA
Thomas Nentwig – Police Officer, Boxford, MA
Paul Johnson – Gardner, MA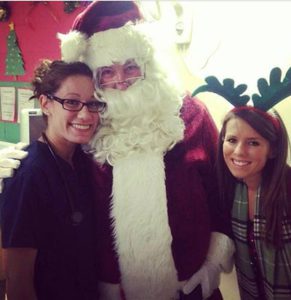 ---
Corporate Donors
Angelica's Restaurant – Middleton, MA
Boston Environmental – Portsmouth, MA
Brand Company, Inc. – Wenham, MA
Consumer Focus™ – Portsmouth, NH
Coca Cola Enterprises
Great Brewers – Danvers, MA
LKnife & Company – Danvers, MA
Dechert, LLP – Boston, MA
Fox 25 TV
Brad Hutchinson Real Estate – Melrose, MA
North Andover Flight Academy
Kappy's Liquors
Danversport Yacht Club – Danvers, MA
Twins Enterprises – Boston, MA
Saint Paul Parish – Wellesley, MA
Union Oyster House – Boston, MA
Continental Restaurant – Saugus, MA
NECN TV
Sheraton Boston
Nunon Garden Center – Georgetown, MA
Boston Private Bank & Trust CO. – Boston, MA
SeniorCare – Gloucester, MA
Toomey's Cleaners – Peabody, MA
---