Santa's Magic Hosts Bingo Night at Chelsea Soldiers' Home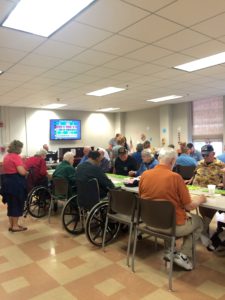 On July 22, 2015 a group of Santa's Magic Volunteers hosted a Bingo Night at the Chelsea Soldiers' Home. We were thrilled to have the opportunity to honor and celebrate the men and women who risked their lives to ensure our nation's freedom.
The night began with the Pledge of Allegiance and a prayer. A meal of Chinese food followed and both the veterans and volunteers had a blast as they continued the night with a few games of Bingo. Thanks to the generosity of our supporters, Santa's Magic was able to provide small prizes for the winning vets. From patriotic tees and ball caps to a few dollars, we were able to provide a little incentive to win the Bingo games while putting a smile on the residents' faces.
Santa's Magic is no stranger to the Chelsea Soldiers' Home. The veteran's facility is one of our annual stops each Christmas Morning and we are fortunate to be able to further appreciate our heroes with occasional Bingo Nights and monthly birthday celebrations. Home to approximately 400 residents, we were happy to have a large turnout at our July Bingo Night.
For more information on the Chelsea Soldiers Home, please visit their website at: http://www.mass.gov/eohhs/gov/departments/che/

---