November 1, 2016
As we gear up for the upcoming holiday season, we would like to take a moment to look back and show our appreciation for a standout volunteer that contributed so much to Santa's Magic in 2015.
At a recent luncheon,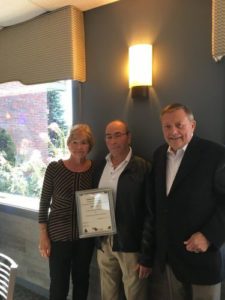 Bill Faria, of Ipswich, MA, was honored as the 2015 "Elf of the Year". Bill has been with Santa's Magic from the start and has generously groomed and maintained the Santa beards used on Christmas Morning every holiday season for the past 34 years. Last year, after we increased our team of Santas, the number of beards and hairpieces that needed to be groomed had grown to 14. This is no small task and we are so appreciative of the continued hard work that Bill has generously contributed.
Bill has also volunteered his time picking up and transporting donated gifts to and from our storage bin and venue sites, further supporting the mission of Santa's Magic. He has also become a regular on Christmas Day, preparing the many gifts for distribution to patients at the Brigham and Women's Hospital. On top of his many seasonal contributions, Bill displays his year-round commitment to our mission by being a regular volunteer at Santa's Magic Bingo Nights and dinners at the various VA Centers we visit.
In his many years with the nonprofit, Bill Faria has donated countless hours and brought happiness and joy to countless lives. Santa's Magic is privileged to have Bill as a part of our team of volunteers and we applaud him on receiving recognition as the 2015 Elf of the Year. Congratulations, Bill, and thank you for all of your support to our cause!
Picture from Left to Right: Virginia Faria (Wife), Bill Faria, and Jim Nentwig (Founder/Chairman Santa's Magic, Inc.)
---